We are TUV Austria Accredited and Offer Certification Training Worldwide in Management, Finance, Risk, HR, and Wealth Management.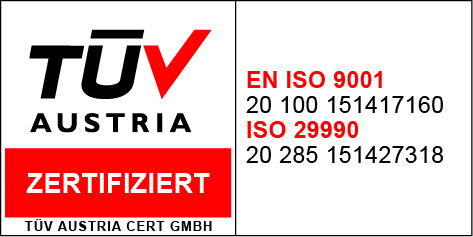 In the last 20 years, we have used world class standards to train and certify professionals in government, NGO, and civilian jobs in over 150 countries around the world.  If you or your team needs certification training, our IBS GAFM Global Academy can arrange to have a team deliver it onsite or online to your people almost anywhere in the world. If you desire your university or training company to be recognized as an accredited certification training provider, please contact us directly.
After an on site audit, we are the first US/EU Certifying Body in the world to achieve ISO certification compliance  for both quality ISO 9001 and non-formal training ISO29990. We are charter members of the CHEA Quality Group, professional members of the ACBSP, and Certified/Accredited by the TUV which is a 140 year old globally known accreditation body.

The Mentzhausen companies such as the IBS GAFM  and Mentz Consulting promote the following organizations worldwide for education standards and credentialing of  individuals in the areas of:  Leadership, Finance, Management, e-Business, Risk, HR, Project Management, Wealth Management, Ethics and Compliance. We have been a proud member of the Institute for Credentialing Excellence for several years.
Mentz consulting works with the top educational and media institutions in the world.
For professional standards and executive education, contact: