THE SUBTLE ART OF BECOMING WEALTHY –
THE EXTREME SUCCESS STRATEGY AND TACTICS TO GREATNESS: THE SCIENCE OF WEALTH & PROSPERITY – THE 12 STEPS FOR LIFE ABUNDANCE

By: George S Mentz 

Paperback

– February 4, 2020

This book is both practical and magical. It can and will help you produce a greater life if you take the suggestions listed herein. Give this one book a chance to lift you to a new higher level of happiness, health and success. You deserve it. If you have read books by Tim Ferris, Brene Brown, Joel Osteen, Michael Beckwith, Rev Ike, T Harv Ekar, Napoleon Hill, Oprah Winfrey, Gabrielle Bernstein, Michelle Obama, Peter Drucker, or Donald Trump, then here is your chance to get those extra nugents of success that can help you break out to new levels of happiness and wealth. This is a condensed encyclopedia of success strategies and tactics. This books is designed to be a VIP refresher on mental and spiritual issues of: wealth, success, spirituality, metaphysics, business, mindset, philosophy, and consciousness. This is the mini MBA of Mindfulness and Performance.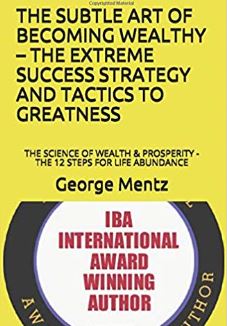 At any age, people may need to reboot their lives. Some need to start over completely;   some may need a new start or a leg up in life. These ideas are critical to those who want advanced growth in their life. If you are familiar with cognitive therapy, boot camps, or 12 step work, you know that in 6 months to a year, a person's life can fundamentally change and be redirected toward usefulness, a higher purpose, or a destiny of their calling.
This Book contains 12 individual "Bio Hacking" [i] steps to innovation, success, health, wealth, and prosperity.
These steps are a framework for a radical advancement of your life, mindset, performance, and success. Read these concepts carefully, using a dictionary if you must. Each sentence within each step may be the most important concept that you have ever read. Some ideas may seem trivial when compared to the major issues going on in your life; however, the steps are for a broad audience looking for growth and advancement.
If you can dig deep and change yourself from the inside out, and begin to use great habits on a daily basis, you begin to stack the cosmic cards of life in your favor and you win at life's celestial casino going forward. Famous sales gurus often say that the difference between failure and great success can be as little as 2% more effort each day than other folks. Thus, we must all learn to control our dominant thoughts and habits while rejecting and avoiding needless scarcity and struggle based thinking. All pessimists have is their opinion of failure and "they are determined to be right about what is wrong with this world." As they say, belief is the acceptance of something as truth. Once you accept a belief, that acceptance begins to create new realities for you and you begin to experience life in a whole new way.